MAGMASOFT® 6.0 - MAGMA CC – More Simulation for Continuous Casting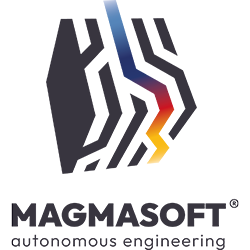 MAGMA CC users benefit from new capabilities: They can consider the influence of electromagnetic stirring on the flow and thus better evaluate the quality of their product. In addition, the thermomechanical behavior between strand and mold is better defined by gap-dependent heat transfer coefficients. It is also possible for users to display moving geometries in the Result Perspective. This allows an accurate interpretation of the real starting process including the visualization of the moving starting block.
MAGMA CC - New EMS Simulation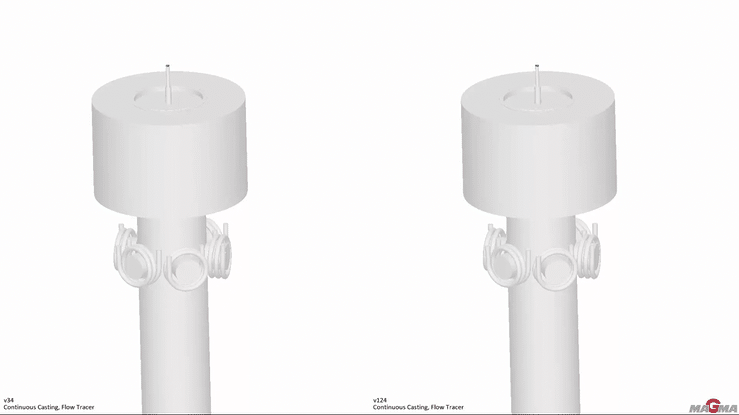 We proudly announce our new simulation of EMS which will be available with with the next MAGMA CC version.
Product Quality, Process Robustness and Cost-Effective Productivity
The continuous casting process is of crucial importance for the manufacture of semi-finished products. Liquid metal is introduced into a short, intensively cooled mold, which may include graphite inserts, from a tundish or launder. At the same rate, metal is withdrawn from the mold, where the presence of a stable solidified shell at the end of the mold needs to be assured. In the start-up phase, a starting ingot is positioned in the mold, and after reaching the desired filling level, the starting ingot is removed and the metal inflow adjusted accordingly. The primary cooling in the mold is of decisive importance for the formation of a stable solidified shell. Further cooling of the strand takes place in the so-called secondary cooling zone. For process design and optimization, MAGMA CC, is a fully integrated and practically relevant turn-key solution providing meaningful information for the simulation based optimization of vertical and horizontal continuous casting processes.